Menus
Menus
Hollywood Bowl/Summer Picnic
Platters
Cheese & Charcuterie Platter
Brie, Manchego, Prosciutto, Salami, Rosemary Cashews, Grapes & Assorted Crackers
(serves 3-4) 45
Mediterranean Platter
Toasted Pita Chips, Roasted Red Peppers, Assorted Olives, Cherry Tomatoes, Artichokes & Sliced Cucumbers. Served with Housemade Hummus.
(serves 3-4) 30
Heirloom Crudité Platter
Heirloom Radishes, Snap Peas, Carrots, Cauliflower & Endive. Served with Green Goddess Dressing.
(serves 3-4) 30
Meals
Steak & Watercress Sandwich with Caramelized Onions & Horseradish Aioli on a French Roll
--Mixed Greens with Creamy Mustard Vinaigrette
--Provencal Potato Salad with Olives, Haricots Verts, Cherry Tomatoes & Fresh Herbs
22 per person
Sliced Hanger Steak
--Roasted Cauliflower, Farro & Arugula Salad with Lemony Tahini Dressing
--Summer Caprese Salad with Bocconcini, Heirloom Cherry Tomatoes & Basil
24 per person
Roasted Salmon with Red Pepper Hazelnut Pesto
--Grilled Broccoli with Garlic, Lemon & Red Pepper Flakes
--Mediterranean Orzo with Roasted Veggies, Feta, Basil, Parsley & Pine Nuts
25 per person
Pressed Tomato & Mozzarella with Pesto & Basil on Baguette
--Pesto Pasta with Peas & Pine Nuts
--Roasted Heirloom Baby Carrots with Sea Salt
24 per person
Grilled Rosemary Lemon Chicken Breast
--Pesto Pasta with Peas & Pine Nuts
--Peach & Nectarine Salad with Gorgonzola & Candied Pecans
20 per person
Spanakopita (Spinach in Puff Pastry)
--Mixed Greens with Balsamic Vinaigrette
--Moroccan Couscous with Currants, Almonds, Carrots, Onions & Parsley
15 per person
Salads (Serves 1 as an entrée, 2-3 as a side salad. Add chicken to any salad for 4.00)
Kale & Brussels Sprouts Salad
With Fennel, Pecorino, Pine Nuts & Lemon Shallot Vinaigrette
13
Strawberry & Feta Salad
With Mixed Greens, Candied Pecans & Balsamic Vinaigrette
13
Sweets
Fresh Baked Cookies
Chocolate Chip, Oatmeal Raisin, Confetti Sugar Cookie
2.25 each
Assorted Dessert Bars
Fudge Walnut Brownie, Lemon Bar, 7-Layer Bar
2.75 each
Misc.
Cardboard Carrier Box with Napkins & Utensils
(1 box fits up to 4 meals/salads/platters)
5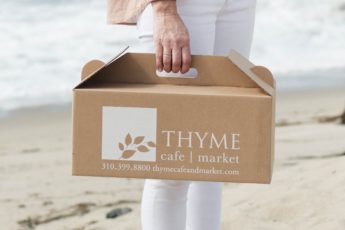 Hollywood Bowl/Summer Picnic Menu
Packed in a bag or a cardboard traveler with napkins & utensils.
$5.00 Charge for Cardboard Carrier Box
Please allow up to 48 hours' notice for ordering.
Fax: (310) 399-8808 or
Email: gtg@thymecafeandmarket.com
Boxed Lunches
Boxed Lunch
Includes a choice of a sandwich along with a chocolate chip cookie or fudge walnut brownie. Served with mixed greens and creamy mustard vinaigrette. Boxes are tied with ribbon and include a napkin, fork & knife.
17 each (+1 Extra for Steak, Turkey Meatloaf Sandwiches, Grilled Chicken Banh Mi, Grilled Chicken & Fig, Italian Chopped Salad or Chopped Chicken Cobb Salad)
Boxed Lunches
Please allow up to 48 hours' notice for ordering.
Fax: (310) 399-8808 or
Email: gtg@thymecafeandmarket.com