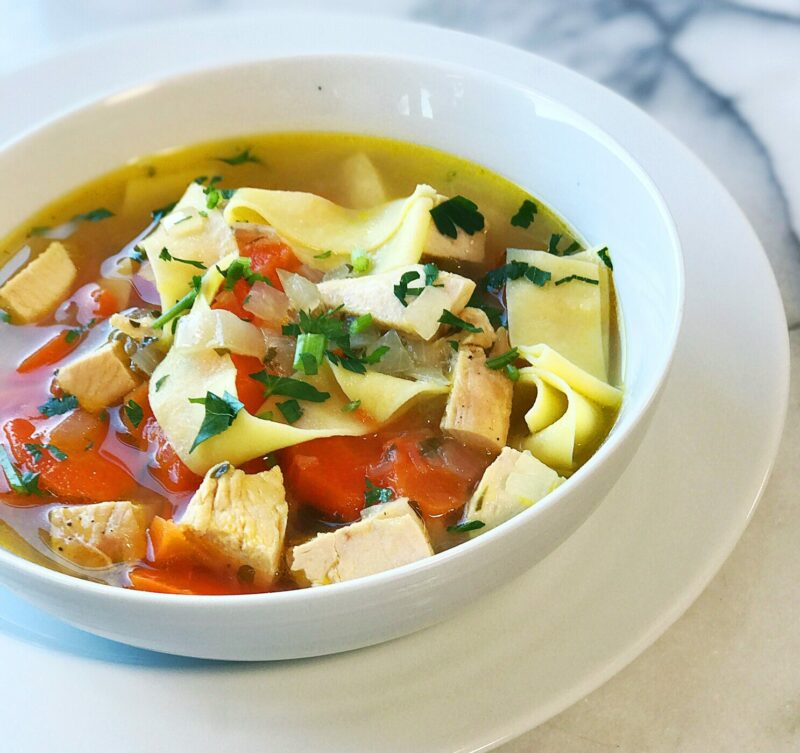 Spring is around the corner, but we are still fighting a few colds around our house. There is nothing more healing  than a bowl of homemade chicken noodle soup.  My kids love it and it makes for a great easy dinner that the whole family can enjoy. I made a batch last night and it just reminded me how easy it is.
16 cups chicken stock
1 whole chicken, cut into 6 pieces
1 Cups sliced carrots
1 Onion diced
3 Celery stocks sliced
¼ Cup chopped Parsley
8 ounces of Pasta, your choice…I like wide egg noodles
Salt and Pepper to taste
Place the stock and the chicken in a pot. Bring to a boil. Simmer slightly covered for 20 minutes. Remove the chicken from the pot and reserve. Skim the stock of the fat. Add the carrots, celery, onion and pasta. Simmer for 8 minutes or until the pasta is cooked through. Meanwhile take the skin off the chicken and dice it or shred it. Add the chicken back into the soup and add the parsley. Taste for Salt and Pepper and serve. This will make 4 quarts of soup. I like to freeze half…for that next chilly night.
Maire