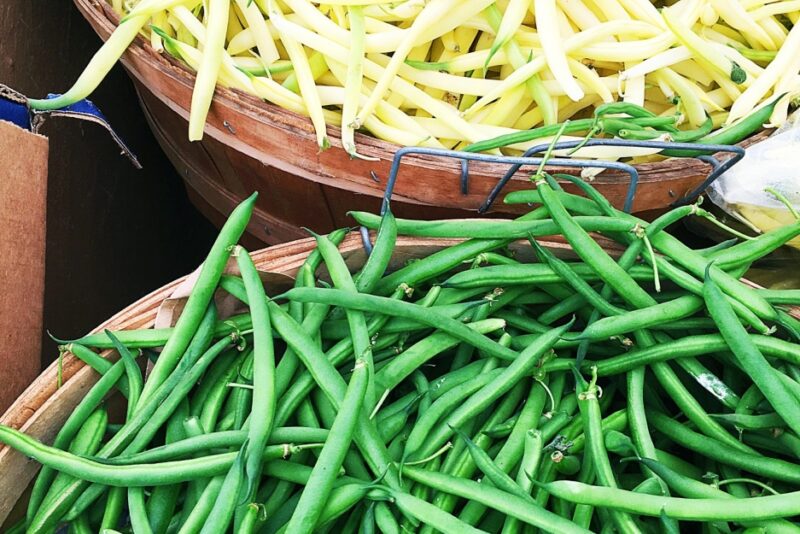 Dressing:
1/3  cup red wine vinegar
2 tablespoons whole-grain mustard
2 tablespoons minced shallots
¼ cup extra-virgin olive oil
¼ cup vegetable oil
1 tablespoon chopped thyme
1 tablespoon chopped tarragon
Kosher salt and freshly ground pepper
Vegetables:
3/4 pound yellow wax beans, cut into 11/2 inch lengths
3/4 pound green beans, cut into 11/2-inch lengths
3/4 cup shelled edamame
2 tablespoons extra-virgin olive oil
4 ears of corn, shucked and kernels cut from the cobs
2 pints cherry tomatoes, halved (4 cups)
3 scallions, minced
Salt and freshly ground pepper
Directions:
Make the dressing:  In a food processor, combine the vinegar, mustard, and shallot and process until smooth.  With the machine on, slowly add the olive and vegetable oils and process until emulsified.  Add the thyme and tarragon and pulse until combined.  Transfer to a bowl and season with salt and pepper.
Prepare the vegetables:  In a large pot of boiling salted water, cook the yellow wax beans and the green beans separately until tender.  Using a slotted spoon, transfer the beans to an ice bath.  Drain and pat dry.  Add the edamame to the beans if they are already cooked if not then cook and add.
In a large skillet, heat the olive oil.  Add the corn and cook over moderate heat, stirring often, until crisp-tender, about 3 minutes.  Transfer the corn to plate to cool.
In a very large bowl, combine yellow and green beans, the edamame, corn, tomatoes, and scallions.  Add the dressing and toss to coat.  Season with salt and pepper and serve.